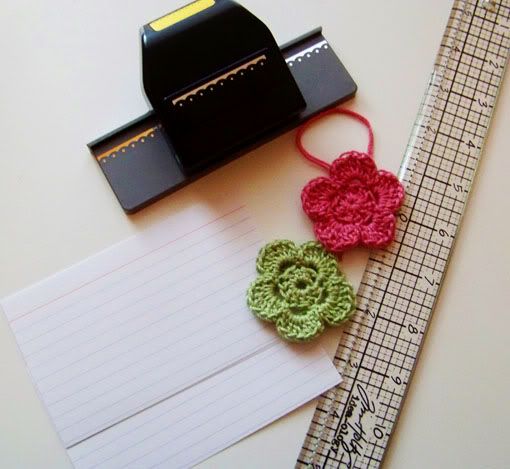 these things are being used to death this week. I am participating in a swap over at Studio Calico that requires me to step away from the keyboard. We're talking handmade embellishments. It's been kinda nice
reacquainting
myself with some of my favorite supplies
I just got that Tim
Holtz
ruler and it is amazing...I love it. It has a perfect grid for accurate spacing and cutting. A steel edge on one side for craft knife usage and tiny little holes for hand stitching. I have a lot of rulers but for now I'm playing favorites.
The paper punch is a small scallop with holes by
ek
success, i think. I got it on sale at Michael's for 40% off which was great because those things don't come cheap. I have a serious weakness for punches, but I like that this one has a smaller scallop.
The crochet flowers have been popping up everywhere...cards, scrapbook pages, headbands...you name it. I love whipping them up while I'm watching
tv
. I found a few great patterns online and then adapted it slightly to make them smaller.
The index cards are a long time love that never seems to wane. I 'll show you tomorrow some of my favorite crafty uses for them. What is your favorite go to item?