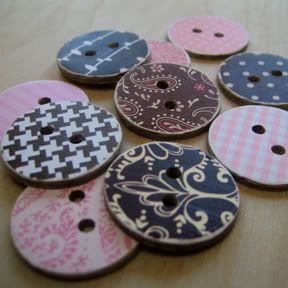 it's been mighty crazy. I guess I didn't expect the buttons to be so popular, but they were and I didn't make nearly enough. I received several emails requesting different combinations...a few I already thought of and others were delightful combos that I hadn't even considered. I'm also making a few more
mini's
with a twist. I will be updating the
store
on Monday, August 3rd and it will include new button combo's, a couple more
mini's
and some other cute additions I've been dreaming up.
In other news, I'm trying to decide whether or not to get a
Yudu
. I have a very good connection who can get it for me for half the price.
Hmmm
...yes, no, will I use it?
Paper Source
now carries it as well as the supplies, but I still have a brand new
Gocco
gathering dust in its almost never used before box.
Well...I will try and pop back in and do a weekend post...I still have to take a few pics of the mini journal I'm currently working on. I have to say, the great thing about the smaller scale is not feeling the need to fill things up. Allowing things to stand alone. Less fuss. Simplicity. A specific point of view. I like that. I think instead of sharing links to some of my favorite
mini's
as I have been known to do, I think I will share some of my own. Not the best...but beloved all the same.
That's my goal next week. I will devote what small amount of extra time I have next week to a "me" project. Not sure how that will shake out...but you'll be the first to know:) My inspiration:
this
book
, I've been taking surreptitious peeks at work.
SSShhh
, don't tell.
BTW: if you love paper + pretty packaging as much as I do you must check
this
out.